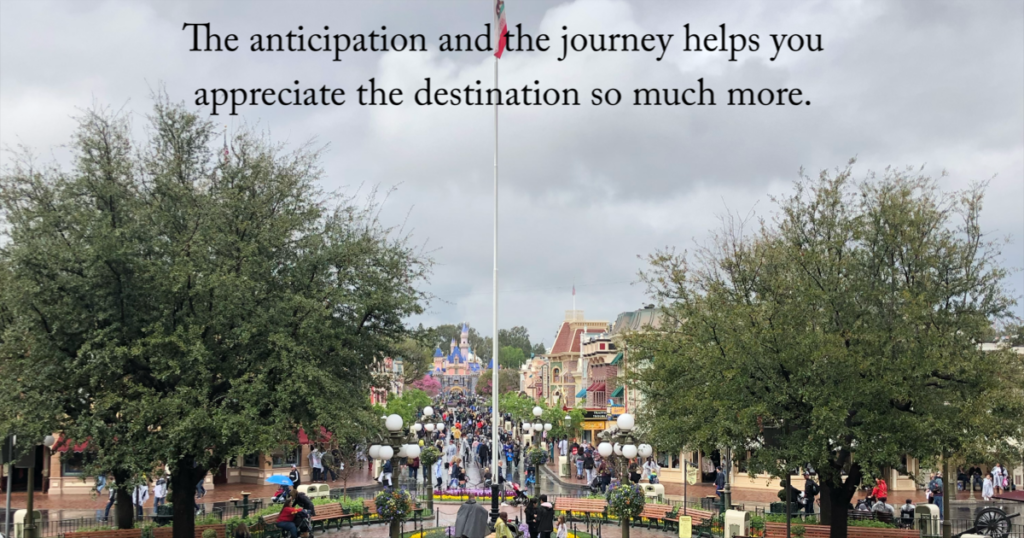 Because I have had a few bad experiences before my Disneyland trips, it usually isn't until I entered the turnstiles of the parks that I could truly relax and appreciate that I started my vacation. Here are some examples of things that have happened that had either delayed my arrival or required me to cancel my trip:
• I was ironing a shirt the night before and the cap for the feet of the iron board came off. I jammed my toe into it and split it open. I should have gotten stitches but I didn't want it to ruin my trip so I wrapped it up tight and limped the whole day at Disneyland. I still enjoyed the trip despite that;
• One trip there was so much snow that the 2 major routes to Southern California were blocked and I had to cancel;
• My transmission went out on an LA freeway during heavy traffic. I couldn't drive faster than 35 mph and spent the first day of my trip at a transmission shop;
• I didn't notice before my trip that there was damage to one of my tires where it was shredding on the inside and I had to take my car to a tire shop on the way;
• I had suffered a combination of anemia and dehydration before one trip and I probably shouldn't not have gone but I wanted to see my friends. I may have only spent 6 hours in the parks during a 3 day trip. Most of the trip I was "dying" in the hotel room. During those brief moments in the parks, I enjoyed some fun moments that I cherish to this day;
• In 2020 there was a pandemic that shut down Disneyland resulting in canceling a trip that I was looking forward to for several months. Not sure you heard about this one. It was big news in 2020;
The strange thing is the not knowing that a trip would actually happen, even though it was anxiety inducing at the time, added to the excitement of it actually happening. I knew that regardless of if the trip would happen that day or the next that eventually someday I would end up at Disneyland again. And as I stated at the beginning of this post, when I actually pass those turnstiles and get around the corner and look down Main Street to the castle I knew that the journey to get there was worthwhile.
If you are reading this in mid 2020 you know that we are in the middle of an historic world wide event. It is frustrating because you want to be at your destination. You want to be at the place you know you will eventually arrive but I don't know how long it will take and what obstacles are still waiting for you ahead. I want to remind you that when the journey is rough, when you finally get there, you will appreciate it so much more. You will be able to breath and never take life for granted again. It's funny how things as simple as a hug, going to the park, getting a hair cut, going to work or school, watching a sporting event, and finding basic essential items in the store would go away for a season. Imagine when these things return how much more we will appreciate them.
If you are reading this in 2021 after the pandemic is over. Remember what life was like in 2020 and enjoy your story and the journey you took to get to where you are.
So enjoy the anticipation no matter how helpless and frustrating it feels now. Once you reach the destination you can share with people the story of the journey you took to get to where you are today.