Here are my favorite movies of 2021.  After reviewing my list, I discovered that I had seen over 30 movies that were released in 2021.  I can honestly say that I enjoyed every single one of them so making my top 10 list was hard.
The movies I chose ranged from stories that big time entertained me to ones that helped me see the world from a different perspective.  Each of these movies were special for different reasons.  Here is the list in reverse order:
10. Spider-Man: No Way Home
Spider-man was my first favorite super hero growing up.  Some of my earliest memories were watching old animated Spider-man reruns… most of which now are unwatchable today but as a small child I was fascinated with the character.  What I love about this movie is that it honors the 20 year film history of Spider-man.  Without spoilers, all of the villains were characters that came from other universes. They came from the films of the last 2 versions of Spider-man and they are all played by the original actors.  The current Peter Parker doesn't want to fight them but tries to work to rehabilitate them.  Of course in the final battle not all of them want to change from their evil ways.  Unfortunately what I love most about the movie I can't say because I don't want to ruin the best moments!  If you've enjoyed any version of Spider-man since 2002, this is worth seeing.  I laughed out loud and even teared up many times. I'm not a fan of the phrase but this movie has all the "feels".
9. Coda
This movie is available in the Apple TV app.  It features the main character Ruby who is the only person who can hear in her all deaf family.  The conflict of this movie is that she loves to sing and she is really good at it.  Her family doesn't understand her passion because they can't hear her.  What I enjoy about this movie is that it shows the struggle of a child who is depended upon to translate for the family.  I have seen this before in families where there is a young child in a family that only speaks Spanish.  That child is forced, due to circumstances, to be the adult when there are communication issues.  What was moving in the movie was seeing the family learn to respect and support their child even though they can't enjoy her gift.
8. Tick Tick Boom!
Tick Tick Boom is a biographical musical about a moment in the life of Jonathan Larson, the writer of the famous Broadway musical, Rent.  I was surprised that I enjoyed this movie as much as I did since 1) I am not a big musical fan and 2) I've never seen Rent.  What I enjoyed about this was the inspiration of learning how much work Jonathan Larson put into trying to make it in the entertainment business.  There is so much emotion in feeling his rejections and his triumphs.  We get to experience his pain as we witness his struggles with his close relationships.  I definitely had waterworks (AKA tears) by the end of this.  Even if you know nothing about the life of Jonathan Larson, this is still worth seeing.
7. A Quiet Place II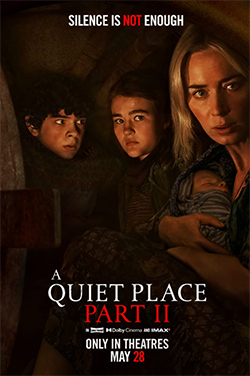 I am not a big fan of the "destructive alien creatures" genre but the first movie in the series had an interesting plot where the creatures couldn't see but they could hear and they were attracted to sound. The family that we follow in the story had to do their best to keep quiet. I saw the first film in Dolby Atmos and the sound design was incredible. It was also extremely quiet in the theater and so I felt bad that I bought popcorn. This time I didn't buy any snacks that made a lot noise.  The sequel, in addition to re-visiting characters who died in the first film with a great flashback sequence, really builds on the story.  The first movie they find out how to kill the monsters and in second movie is about how they take this knowledge and try to share it with the rest of their community.  Where this movie succeeds is it has a lot of heart as the surviving family try to find shelter but also finding a way to rid the world of the alien threat.  There are some great "found family" moments as they reconnect with old friends that help them survive and complete their mission. I'm looking forward to the final chapter.
6. Nobody
This movie is a fun ride!  If you can handle violence with a good dose of comedy, this is a must see!  I don't want to give away too much but the general plot starts out with a home invasion while the family is at home.  The dad Hutch is picked on by the family because he had a chance to take out the 2 people who broke into their home and he apparently froze.  Come to find out Hutch is actually a retired spy and he kept that a secret from his family. He is one of the most deadliest spies to ever live and he didn't actually freeze.  He had reasons for not taking out the invaders.  I won't go into more details but as a result of getting his stuff back from the robbers he gets himself in trouble with some crime lords and so him and a few of his former spy buddies must fight to take out the mob in order to survive.  It is really a fun ride that I didn't expect to like this much.  SEE IT!
5. The Suicide Squad
The first Suicide Squad movie was just okay but the best stand out was Margot Robbie's Harley Quinn.  The Harley Quinn character ended up getting her own movie in the very enjoyable "Birds of Prey".   The Suicide Squad builds on the idea of the original where a bunch of DC comics super villains are forced to go on a mission by the US Government.  Chips were put into their heads that can explode if they don't follow through with their objective.  The characters are pretty much insane and really fun together.  This subvert expectations with many twists in the plot that you won't see coming.  Yes it is bloody and yes they love the "F" word but this is worth watching multiple times.  
4. Don't Look Up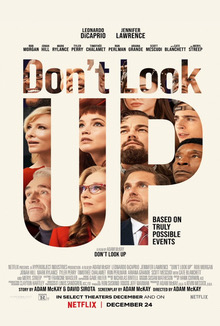 Sometimes I go into a film without knowing anything about it.  Don't Look Up was one of those movies.  The general premise is that a couple of scientists from Michigan discover that in 6 months a comet is going to hit earth unless the world leaders do something about it.  This is more of a hyper real allegory that pokes fun at a society that is more interested in social media and celebrities than dealing with the actual issues that are plaguing society today.  Politicians only act if it benefits their poll numbers or their donations.  This does get really "preachy" but I still loved it.  Anything that can get me to think about the way I see the world is a plus.
3. Raya and the Last Dragon
Raya and the Last Dragon is currently my all time favorite Disney animated film!  The plot is evil spirits have taken over the land of Kumandra and Raya must work to find the last Dragon who can help restore the land and bring back the people the evil spirits turned to stone which includes Raya's father.  The lands of Kumandra is divided in to very specific people groups that don't get along and it required people from each of these lands to work together to accomplish the mission.  I have seen this movie 4 times and EVERY TIME it brought me to tears.  It is a beautifully crafted movie and if it didn't come out during the pandemic and get a same day release on Disney Plus, it would have been a HUGE hit in the theaters. I connected with this movie because in recent years, if I really don't understand someone, I usually try to get to know them and see the world from their perspective. It is very easy to dismiss or even vilify those who don't think like you. This story is about breaking those barriers and understanding out differences.
2. Last Night in Soho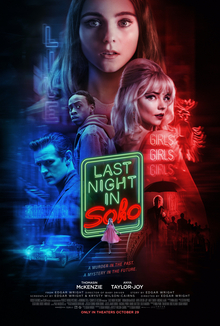 Edgar Wright, the writer and director of this movie, does it again.  I LOVED his movie from 2017 Baby Driver. It made my top 5 of that year.  This is Wright's attempt at making a horror/suspense movie.  The plot features the main character, Ellie, who lives in the rural area of the UK and has always dreamed of being a fashion designer and she really loves the 60s.  She ends up renting a room in an old home after she moves out of the chaotic dorms to find herself at night transported to the 60s where she observes the life of a lady named Sandie who moved to London to break into the entertainment industry.  Things get dark pretty quickly in the past and Ellie is haunted by the dark turn in Sandie's story.  There are so many layers to this story that it rewards multiple rewatches.  I notice something new each time.  
1. Together Together
On the surface the plot of this film is ridiculous.  This was another movie where I went in blind.  I didn't see a trailer and I didn't even know the genre.  I actually wasn't expecting to love this movie because I find a lot roles that Ed Helms (Andy from the Office) plays kind of annoying.  So the plot on the surface is the story of Matt, played by Helms, who is in his 40s and not married and doesn't have a girlfriend.  He decided he wanted a child so he gets a donor egg and hires a 20 something lady named Anna to be the surrogate mom for the child.  The magic of this movie is that it is really a romantic comedy but about plutonic friendships.  I personally usually connected with women more then men in friendships so I have had a few plutonic friendships over the years.  These friendships have been very special to me and this is the first movie I have ever seen where the 2, opposite sex, lead characters truly love each other in a non-romantic way.  Because I connected with it so much it had me in tears even on multiple viewings.  The next day after my first watch I found the Instagram page of Nikole Beckwith, the writer/director of this movie, and I thanked her for how much her movie meant to me.  I had a great conversation and she thanked me for the encouragement and the fact that I really got the true purpose of her film.  
Thanks for reading my list!  If you have a favorite from 2021 I would love to hear it.  If you have seen any of these movies or were encourage to check these out by this post, please let me know!